---
---
After a long day on the trail, there's nothing better than a warm shower. With the 20-liter camping shower bag, you no longer have to compromise on comfort and cleanliness when you're out in the Great Outdoors. This camp shower bag from Primal Survival Gear uses solar energy to heat the water contained in the bladder. Designed with non-toxic and environmentally friendly PVC material.

Equipped with a tap, it is very convenient to control water yield.  The handle of the bag can be reinforced by the hard plastic tube and can be hung on the car or tree branches to take a bath when you are camping or hiking. This is a must-have product for multi-day outdoor excursions such as Camping and Hiking to make you feel clean and more comfortable after long expeditions. The handle of the bag can be reinforced by the hard plastic tube.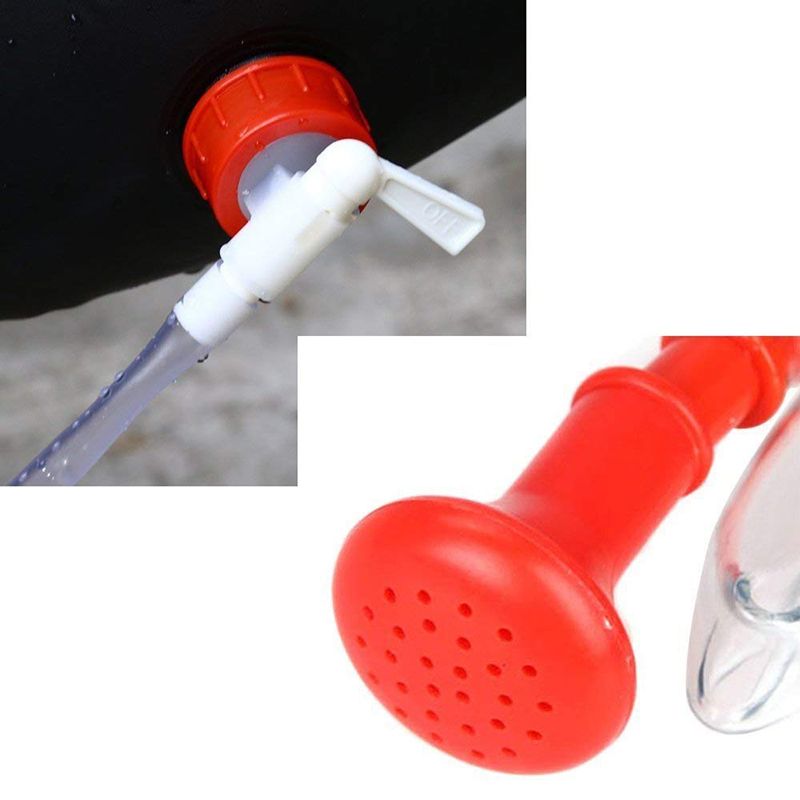 Features:
ECO-FRIENDLY CAMPING SHOWER BAG - Our camping shower bag is made of environmentally leak-proof material and PVC coating without toxic or harmful effects. Our shower bag is wear-resistant, lightweight, and reusable. Black plastic PVC design of solar heat gain automatically can quickly absorb sunlight for heating. The best bath temperature of 45 degrees Celcius can be reached after about 3 hours of direct sunlight.
NATURE SHOWER - You hiked all day. As it turns to even and you already had your tent the best thing next is a natural shower. It's easy to set up, convenient to use, and fun. You'll be able to tell back home about the showers under the stars you had. Best experience ever.
LARGE CAPACITY AND CONVENIENCE TO CARRY - This camping shower bag can store 5 gallons / 20L of water with a size of 60 * 40cm (L x W). After being filled, it offers support of taking shower for about 8 minutes. This shower bag with small size and lightweight can be foldable into a strip in a backpack to save space. It is your best choice for all outdoor sports such as traveling, hiking, climbing, camping, swimming, self-driving, fishing, hunting, and others.
WONDERFUL GIFT IDEA - We have carefully prepared the necessaries of your valve with on / off function of controlling the water flow, shower hose and shower head easily to disassemble and assemble, hook and lifting rope making it easy to hang shower bags on tall trees or ropes, a PVC balance bar for convenience to carry and preventing the handle from being damaged by heavy pressure after water injection.
ENJOY YOUR TRAVEL - Do you always encounter many troubles who love outdoor sports? This multifunctional portable shower bag can easily solve all of them! Let you enjoy a home-like shower whenever you want.

How to Use:
Rinse the shower bag with one tablespoon of baking soda and warm water before initial use.
Fill the bag with water, then place it on a flat surface with black side up and directly expose it to the sunlight.
Maximum temperature should be attained in approximately 3 hours; it can make the 15℃ water reach about 40~48℃.
Notes:

Camp shower bag can heat water up to 50℃ in the strong sunshine. You must test the water temperature before taking a shower and add some cold water if necessary.
Please don't heat the water over 50℃, or it will shorten the service life of the bag.
The water in the bag is not intended for consumption.
If you don't need to use it, simply fold up the bag and store it in a dry, secure space.
Specifications:

Material: PVC (Polyvinyl Chloride)
Color: Black
Capacity: 20L
Size: 60 * 40cm / 23.6 * 15.7in
Package Size: 30 * 16 * 3cm / 11.8 * 6.3 * 1.2in
Package Weight: 318g / 11.2oz
Package List:
1 x Camp Shower Bag
1 x Water Tube
1 x Shower Head
1 x Plastic Tube
1 x Hanging Hook
---